Tramway Package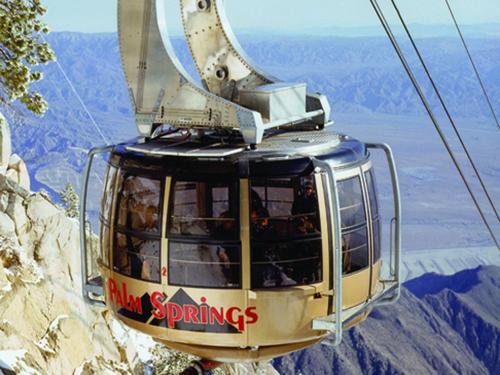 Mt. San Jacinto State Park offers over 50 miles of hiking trails located within a 14,000 acre pristine wilderness, one of the last in California. All trails are accessed by exiting the Mountain Station and descending a concrete pathway to Long Valley. There you will find picnic tables, the ranger station, flush toilets and several easy trails.
Take the tramway up the mountain and enjoy crips cool mountain air with an expansive view of the desert floor. A breathtaking experience!
Code: TRAM
$25 per person includes one tramway ticket
cancellation policy: 3 day for full refund
Package only available through Los Arboles Hotel
Tickets for December 21 through January 5 may be purchased at the Tramway on the day of your visit. We are sorry, but advance purchase is not available for those dates. Thank you.
The Tram will close early on Friday, December 6 and Saturday, December 14 for private events. The last Tram car up these days will be 7:00 p.m. and the last Tram car down will be 8:30 p.m.
Fall Drop Deal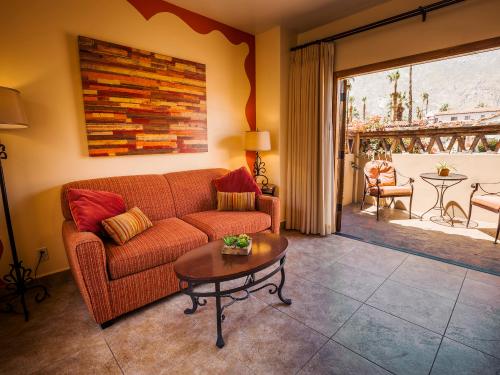 The gorgeous weather of the desert we know and love is here. We're talking high of 99 and evening lows of 75. What better way to celebrate than with 20% off your Sunday-Thursday stay?
Use promo code "falldrop" to redeem when booking. Offer available for all rooms except Petites (but those are already at $89 midweek!) Sunday through Thursday now until December 19, 2019 and yes you can now book through December. Offer cannot be combined with other deals or previously made reservatio
Palm Springs Wine Fest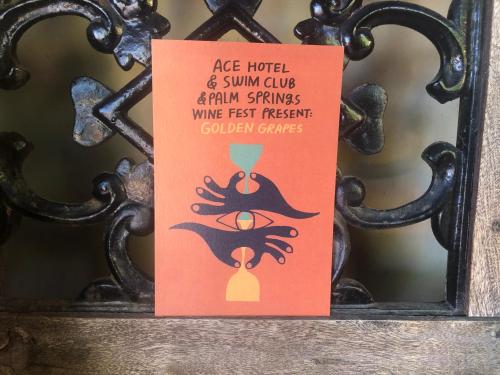 Let's be honest. Most people have a pretty generic, polarized view of what California wine is: big, expensive Napa cabs or Two-Buck Chuck. But in recent years, a new guard of winemakers has been shaking up the style. They're breaking the mold and bringing diversity to the craft to better reflect California itself.
For its second annual event, Palm Springs Wine Fest is dedicated to these winemakers. We're highlighting movers and shakers of the "California Style," who are preserving varietals from far-flung locations like the Sierra Foothills and Mendocino, and taking a lighter touch in the cellar. Of course, we'll have cabernet, chardonnay and pinot noir — they might just taste more natural and fresh, like the winemakers featured at the festival.
Though every winemaker is different, the ones you'll meet use biodynamic, organic, or sustainable farming practices. Most importantly, their wines are made with love and reflect their dedication to California terroir.
In 2019, we're celebrating the Golden State — and its place in the contemporary landscape of wine. Join us Sunday, Dec. 8 at Ace Hotel & Swim Club.
Tickets
on sale now!
Use code: PSWINE for 15% off your stay during wine fest.
2 Night minimum. Cannot be combined with other offers.
Palm Springs Internation Film Festival Jan 2-13, 2020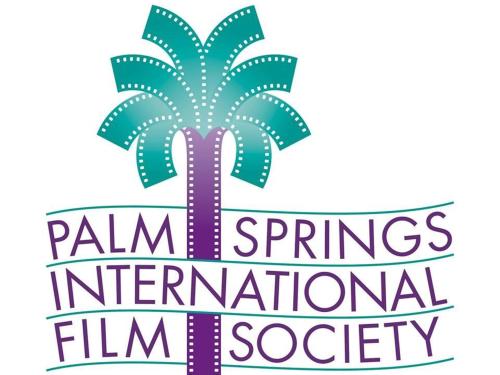 "The Film Society produces The Palm Springs International Film Festival (PSIFF) every January, and Palm Springs ShortFest in June. In addition to curating the best in international cinema, PSIFF has come to be known as the first stop on the road to the Academy Awards® and our Oscar®-qualifying ShortFest is the largest short film festival and market in North America. Our festivals and year-round programs manifest our organization's mission by nurturing and encouraging new filmmaking talent, honoring the great masters of world cinema, and expanding audience horizons." -
Palm Springs International Film Society
Check out films and tickets here:
https://www.psfilmfest.org/film-festival-2020/about
Festival Guide available December 16, 2019
Amex presale: December 16, 2019
General presale: December 20, 2019
JANUARY 2-13, 2020
Use code: PSIFF for 15% off the rate
cannot be combined with other deals/offers/previously made reservations